AFC Championship Preview: Jacksonville Jaguars @ New England Patriots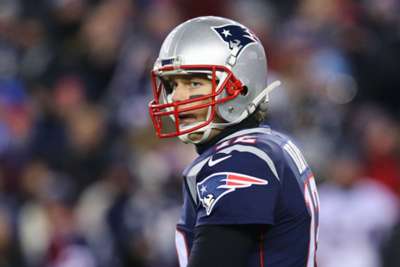 Four will become two this Sunday as the AFC and NFC Championship games decide the opponents for Super Bowl LII.
The NFC will be represented by a quarterback playing in their first Super Bowl – either Case Keenum or Nick Foles - but there is, as ever, a familiar face in the AFC as Tom Brady aims for his eighth Super Bowl appearance with the New England Patriots when he welcomes a swaggering Jacksonville Jaguars side to Foxborough.
Build-up to the encounter has been dominated by talk over Brady's injured right hand and, while the smart money says he will play, the Jaguars are not the team to be carrying an injury against.
Jacksonville come into the game fresh off a shoot-out victory over the Pittsburgh Steelers, and are led by their star-studded defence and ever confident cornerback, Jalen Ramsey.
These key areas will play a part in the final outcome of the AFC clash...
HIT BRADY EARLY AND OFTEN
To rattle the seemingly unflappable Brady is simple in theory: hit him early and often. In 2015, the Denver Broncos rode their destructive defence to an AFC Championship victory over the Patriots.
Fundamental to their success was hitting Brady as soon as possible in the game and making him uncomfortable. Brady was hit 17 times and sacked four more against Denver.
Jacksonville has a similar DNA to the 2015 Broncos: a fearsome pass rush backed up by a stingy secondary. If they can get Brady on the ground and take away the deep ball to Brandin Cooks and Brady's favourite target, tight end Rob Gronkowski, then they stand every chance of knocking off the defending champions.
A failure to do so would see the 40-year-old Brady settle quickly and start to pick apart the Jacksonville defence with an arsenal of quick strikes to pass catchers Chris Hogan, Danny Amendola and running backs Rex Burkhead and Dion Lewis before hitting big plays downfield.
THE BATTLE ON THE GROUND
The running backs on both offenses will be used very differently, but both teams will be hoping they can be equally as effective.
Leonard Fournette has carried the Jacksonville offense at times this season, being used to mask Jaguars quarterback Blake Bortles' deficiencies. Fournette injured his ankle during the win in Pittsburgh and was then involved in a minor car crash on Tuesday, but escaped without injury.
The Patriots gave up an average of 114.8 yards on the ground during the regular season, ranked a disappointing 20th in the league. If Bill Belichick and defensive coordinator Matt Patricia load the box in an attempt to slow down Fournette, it will likely give Bortles easier matchups on passing downs. Fournette is central to the Jaguars' success.
On the other side is the trio of Lewis, Burkhead and James White for New England. Lewis has emerged as the best of the three, getting 50 carries across the Patriots' final two regular season games and 15 more rush attempts in their blowout win against the Tennessee Titans in the Divisional round.
The Patriots use their quick passing game as an extension of their ground game. If offensive coordinator Josh McDaniels can establish that early, it will stand New England in good stead in their bid to reach a 10th Super Bowl.
WHICH BLAKE BORTLES WILL TURN UP?
Bortles has been an enigma throughout his entire career. Now his team are on the cusp of the first Super Bowl appearance in franchise history, and questions are being asked if he can make enough plays and limit his mistakes in order to give the Jags a fighting chance.
The number three overall pick in the 2014 Draft rushed for more yards than he passed for against the Buffalo Bills in Jacksonville's 10-3 Wild Card triumph, completing just 12 of 23 pass attempts for 87 yards.
However, Bortles was much more accurate against the Steelers, passing for 214 yards on 14 completions. Crucially, Bortles has yet the turn the ball over in the postseason.
If he can replicate that performance, Bortles gives the Jacksonville offense a decent chance. However, as the two playoff outings show, he is often a week-to-week proposition. Should New England slow down Fournette and keep receivers Marqise Lee and Keelan Cole under wraps, it could be a rough ending to an otherwise outstanding season.