Jags RB Leonard Fournette uninjured in three-car accident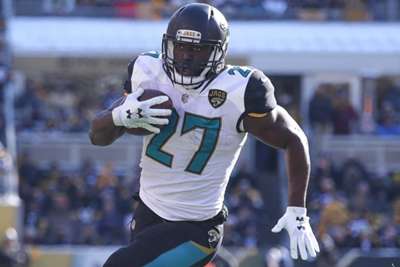 Jacksonville Jaguars rookie running back Leonard Fournette was uninjured in a "minor" car accident on Tuesday, the team confirmed.
Fournette, who turns 23 Thursday, was reportedly southbound on Interstate 295 in Jacksonville when he was involved in the three-car crash. Fournette was not at fault in an accident in which no one was injured.
Fournette and the Jaguars face the New England Patriots on Sunday in the AFC championship in Foxborough, Massachusetts.
Last week, in the Jags' 45-42 AFC divisional playoff victory over Pittsburgh Steelers, he rushed for 166 yards and three touchdowns on 46 carries, despite sustaining an ankle injury that sidelined him briefly in the second quarter.
Fournette ran for 1,040 yards and nine touchdowns this season, catching 36 passes for 302 yards and a touchdown.