49ers sign Garoppolo to record five-year $137.5m deal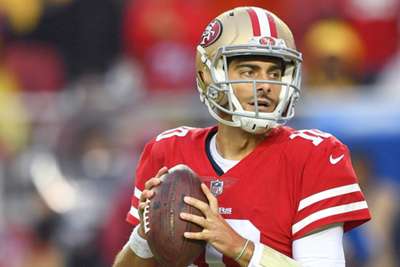 The San Francisco 49ers have signed Jimmy Garoppolo to a record five-year contract worth $137.5million to make him the highest paid player in the league.
Garoppolo's deal, which was first reported by NBC Sports Bay Area and subsequently by the league's official website, is the biggest in NFL history on an average-per-year basis at $27.5m per season.
The 26-year-old quarterback was acquired in October from the New England Patriots for a 2018 second-round pick.
He was in the final year of his rookie deal and set to become a free agent ahead of next season, but now San Francisco's hopes of making him the team's next franchise quarterback have become a reality.
The 49ers finished last in the NFC West with a 6-10 record but went 5-0 in Garoppolo's starts. He completed 67.4 per cent of his passes for 1,560 yards and seven touchdowns with five interceptions in six games last season.